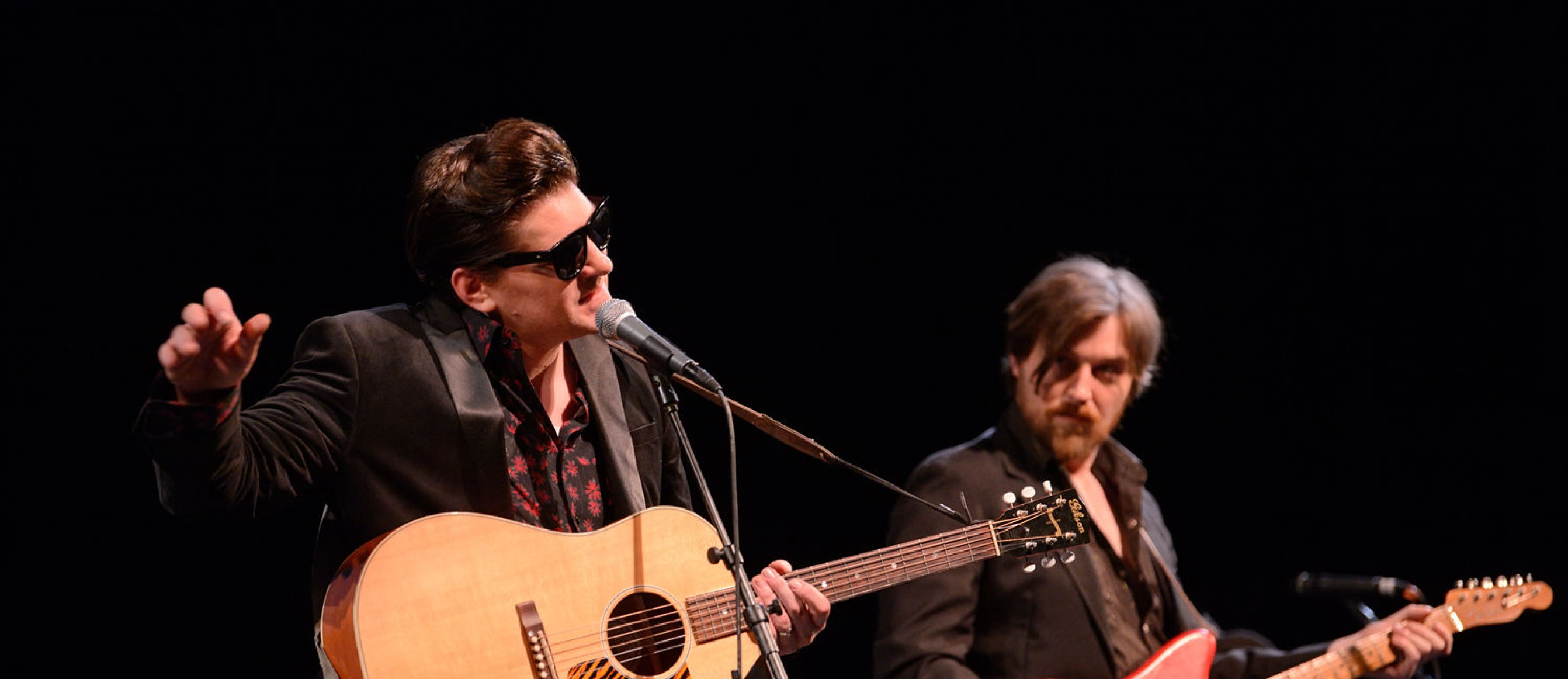 Nashville Wedding Bands
The Top 50 Nashville Wedding Bands. Check out the list of the best of the best - 50 Nashville Wedding Bands we know will knock your socks off. These bands are guaranteed to have full dancefloors, top level musicians and a long list of the best songs ever written.
We're Nashville specialists - this is where we live and play - so you can be assured you're getting the best, most up to date advice on great Nashville bands with us.
Genres: 50s, 60s, 70s, 80s, Classic Hits, Pop
Rowdy, retro and just a little bit romantic, The Goldenaires perform rock 'n' roll with a modern edge. From The Beatles to Chuck Berry, Johnny Cash to Roy Orbison, The Goldenaires' twin vocalists and blistering rhythm section nail the sounds of rock and roll's biggest hits. The Goldenaires look as good as they sound, dressed in sharp suits and hair to match. Lead vocalists Zach and Ben perform with energy and showmanship. The dance floor will be packed to bursting from the first song to the last. The Goldenaires play songs you know and love. They've honed their song list over the years to be nothing but absolute gold. With a repertoire of over 100 songs from the 50s through to the 80s, if it's good, they play it.
I Saw Her Standing There - The Goldenaires
Pretty Woman - The Goldenaires
Songlist includes:
Chuck Berry
You Never Can Tell
Elvis Presley
Blue Suede Shoes
Percy Sledge
When A Man Loves A Woman
The Searchers
Love Potion #9
Muddy Waters
Mojo Working
Bruce Springsteen
Hungry Heart
Genres: Pop, Funk & Soul, R'n'B
Hot Chicken Funk All Stars are hot out of the fryer and fast becoming Nashville's favorite funk and soul band. Featuring a powerful four-piece horn section, fiery rhythm section and stunning male and female vocalists, Hot Chicken has the energy and song list to keep you dancing and singing along all night. With incredible musicians and a deep love for southern fried funk, soul and pop music, Hot Chicken play the songs you love just the way you like them, with a spicy kick that's hotter than a habanero. For a dance floor so hot it burns, you need Hot Chicken!
Working Day and Night - Hot Chicken Funk All-Stars
Son of a Preacher Man - Hot Chicken Funk All-Stars
Songlist includes:
Marvin Gaye
Let's Get It On
Michael Jackson
Rock With You
Justin Timberlake
Suit & Tie
Al Green
Let's Stay Together
Average White Band
Pick Up the Pieces
Aretha Franklin
A Natural Woman
Genres: Country
With stunning harmonies and furious western fiddles Side Piece is Nashville's fiercest collection of female musicians. Playing everything from Cash to Loretta, Joplin to the Dixie Chicks, Side Piece play the songs you know and love, bring the fire and energy to keep you dancing all night long, and do it all in lipstick and heels.
Jolene - Dolly Parton
Devil Went Down to Georgia - Charlie Daniels Band
Songlist includes:
Shania Twain
Any Man Of Mine
Hank Williams
Your Cheatin' Heart
Miranda Lambert
Gunpowder and Lead
Alabama
Dixieland Delight
Big & Rich
Save a Horse (Ride a Cowboy)
Carrie Underwood
Before He Cheats
Alannah Myles
Black Velvet
Genres: Jazz, Acoustic, Latin
With gorgeous renditions of much loved jazz songs and Cy Winstanley's exquisite voice, Gossamer Trio brings a touch of class and sophistication to every event. The trio perform classic jazz standards with a contemporary twist, and have been working together since 2008. From Chet Baker to Michael Buble, Frank Sinatra to Norah Jones, their song list includes everything from light hearted western swing to lush ballads.
Honeysuckle Rose - Gossamer Trio
Do Nothing Till You Hear from Me - Gossamer Trio
Songlist includes:
Frank Sinatra
They Can't Take That Away From Me
Willie Nelson
Honeysuckle Rose
Chet Baker
There Will Never Be Another You
Duke Ellington
Do Nothing Til You Hear From Me
Louis Armstrong
Basin Street Blues
Spade Cooley
Shame On You
The Time Jumpers
Along the Navajo Trail
Antonio Carlos Jobim
Wave
Genres: Acoustic, Jazz, Latin
The Lemon Drops play the popular songs of a bygone jazz era, from Doris Day to Ella Fitzgerald, Norah Jones to Nat King Cole. With over 10 years experience performing in Nashville, bandleader Abigail is an incredible performer with a voice just as comfortable with honeyed American Songbook ballads, swinging jazz classics or up tempo Latin favorites.
Fly Me to the Moon - The Lemon Drops
Route 66 - The Lemon Drops
Songlist includes:
Frank Sinatra
Fly Me to the Moon
Elvis Presley
Are You Lonesome Tonight
Norah Jones
The Nearness of You
Frank Sinatra
The Way You Look Tonight
Nat King Cole
But Beautiful
Genres: Acoustic, Classical
Featuring musicians from the Nashville Ballet and Nashville Symphony, Sparrow Strings are a class act with decades of experience making events extraordinary. With a diverse song-list including beloved classical repertoire and modern pop songs, Sparrow Strings play everything from Bach to The Beatles, Mozart to Christina Perri. The calibre of their musicianship is matched by the contemporary style and professional attitude they bring to their craft. Performing primarily as a trio, a duo version of the group is also available for smaller settings.
A Thousand Years - Sparrow Strings
Canon in D - Sparrow Strings
Songlist includes:
The Beatles
All you need is Love
Elton John
Can You Feel the Love Tonight
Edward Sharpe and the Magnetic Zeros
Home
Jay Ungar
Ashokan Farewell
Genres: 50s, 60s, 70s, 80s, 90s, Classic Hits, Pop, Acoustic, Country, Rock
Simon Stanley is an acoustic guitar and vocalist offering beautiful acoustic music with a generous helping of groove. Simon's gorgeous voice has lead him all over the world, with 15 years experience performing in the UK, the United States and New Zealand. Performing a cool blend of country, classic pop, and rock n roll, Simon's song list includes Johnny Cash, Bob Dylan, The Beatles, Hank Williams, Sam Cooke, Van Morrison, Merle Haggard and more. Whether the vibe is a laid back summer afternoon or something with a bit more dance floor energy, Simon has it covered.
Fishin' in the Dark - Simon Stanley
Hey Good Lookin' - Simon Stanley
Songlist includes:
Bob Dylan
Like a Rolling Stone
Bruce Springsteen
Dancing In The Dark
Creedence Clearwater Revival
Down On The Corner
Dave Dudley
Six Days On The Road
Genres: Jazz
Stephanie Adlington, otherwise known as, "the siren of the south", is an award winning Nashville recording artist & jazz vocalist. Born and raised in Grafton, WV, miss Stephanie is a graduate of the prestigious royal academy of music in London, England. she also attended the Eastman school of music in Rochester, NY, and (pre-college) Carnegie Mellon university in Pittsburgh, PA.
Songlist includes:
Frank Sinatra
Night & Day
Frank Sinatra
Just The Way You Look Tonight
(Up Swing Arrangement)
My Funny Valentine
Julie London
Bye Bye Blackbird
Ella Fitzgerald
I'm Beginning to See The Light
Nancy Wilson
I Wish You Love
Billie Holiday
What a Little Moonlight Can Do
Louis Armstrong
What a Wonderful World
Genres: Jazz
Whether you're looking to entertain clients, add some live music to your wedding ceremony, or just enjoy a night of great jazz, The Ryan Casey Trio is the perfect fit for a classy event. The trio performs all the songs you know and love from a bygone era, with a repertoire including popular jazz standards from the early 1940's and selections ranging from Frank Sinatra and Billie Holiday to Etta James and Nina Simone.
Songlist includes:
Tonny Bennett
On The Sunny Side of The Street
Frank Sinatra
Fly Me to The Moon
Nat King Cole
Autumn Leaves
Loius Armstrong
All of Me
Frank Sinatra
The Way You Look Tonight
Chet Baker
There Will Never Be Another You
Ella Fitzgerald
How High The Moon
Genres: 50s, Acoustic, Jazz
Comprised of vocalists Abigail Flowers, Hollie Hammel and Bethany Merritt, Orange Blossoms create the gorgeous ambience of a bygone era with their three-part harmony singing. Inspired by Ella Fitzgerald and Chet Baker, Abigail Flowers is one of Nashville's premiere up-and-coming Jazz artists. Bethany Merritt is a jazz vocalist and educator based in Nashville, Tennessee, her smooth song styling is richly nuanced. Also based in Nashville, Hollie Hammel is an in-demand vocalist, vocal arranger, and music educator who regularly sings live and studio background vocals for a wide variety of artists.
Songlist includes:
Ella Fitzgerald
Dream A Little Dream of Me
Audrey Hepburn
Moon River
Frank Sinatra
I've Got A Crush on You
Billie Holiday
hese Foolish Things
Ella Fitzgerald
How High the Moon
Ella Fitzgerald
All of Me
Natalie Cole
I Wish You Love
Dinah Washington
What A Difference A Day Makes
Genres: Funk & Soul, R'n'B, Rock
Jeff Woods is a Nashville powerhouse soul, blues, rock singer/songwriter. Jeff was born into a musical family and by the age of 12, he was opening for regional & national touring acts. After attending college at MTSU, he went on to record with some of the biggest songwriters & musicians in the music industry inside Nashville.
Songlist includes:
Stevie Wonder
Superstition/Signed Sealed Delivered
Joe Cocker
Feeling Alright/Have a Little Help From My Friends
John Mayer
Waiting on The World to Change/People Get Ready
Chris Stapleton
TN Whiskey/Broken Halos/Friendship/Second One To Know
Marshall Tucker Band
Cant You See
Genres: Pop, Classic Hits, Top 40, Funk & Soul, 80s, 70s, Acoustic, Country
Fusing exciting vocals, lush instruments and high energy dance music and choreography BanDlux makes your event a once in a lifetime experience. Our members have graced the stage with Donna Summer,Tony Bennett, Wynonna, Madonna, Faith Hill, Patti Labelle, Tanya Tucker, Kelly Clarkson and Aretha Franklin, just to name a few.
Songlist includes:
Jessie J, Ariana Grande
Bang Bang
The Commodores
Brick House
Van Morisson
Brown Eyed Girl
Robin Thicke
Blurred Lines
Genres: Classic Hits, Pop, Top 40, Rock
Playing everything from James Brown to Maroon 5, Stretta are the perfect high energy party band for your next event. With electric male and female vocals and a powerhouse band to match, they'll get you up on the dance floor and keep you grooving all night long to the songs you love.
Songlist includes:
Maroon 5
Moves Like Jagger
Earth, Wind & Fire
September
Justin Timberlake
Can't Stop The Feeling
Bruno Mars
24 Karat Magic
Bon Jovi
Living On A Prayer
Genres: Americana
Award Winning Vocalist Stephanie Adlington and guitarist Aaron Lessard are a couple of steamy storytellers with a penchant for Southern Gothic tales and bluesy Americana sounds. Named "A Tale of Two", the duo showcases Adlington's soulful torch song blast of a voice and Lessard's guttural and stylish acoustic blues picking. Raved-haired and always decked out in vintage chic, Adlington's vox is a cross between Patsy Cline's emotive and deep alto with a sprinkling of Sarah Vaughn's sophistication.
Songlist includes:
A Tale of Two
Stay With Me
A Tale of Two
Ole' Chicago Lightning
A Tale of Two
Not Gonna Miss You (No More)
A Tale of Two
Walking On The Run
Stephanie Adlington
Poison
Genres: Classical
Caloroso is a vibrant string quartet comprised of four freelancing friends. Founded by husband and wife string duo, Bobby (violin) and Melodie Chase (cello), the quartet was born into existence after an undeniable chemistry developed in the recording studio with Kristin Weber (violin) and Nicole Neely (viola). Their collective love for creating meaningful music is what drew them together.
Songlist includes:
Mendelssohn
Wedding March
Bach
Jesu, Joy of Man's Desiring
Massenet
Meditation from Thais
Bach
Sheep May Safely Graze
Genres: Acoustic, Country
Rachel Baiman is a versatile and dynamic multi-instrumentalist and songwriter well versed in a variety of fiddle traditions including Old-Time, Bluegrass, Scottish and Canadian styles. Performing with her trio, Rachel expertly combines gorgeous folk songs with high energy fiddle music and is the perfect band for acoustic music lovers who want a traditional ambience with a contemporary edge.
Songlist includes:
Gillian Welch
One More Dollar
Townes Van Zandt
If I Needed You
Bob Dylan
Mama, You Been On My Mind
Patsy Cline
Honky Tonk Merry-Go-Round
Amy Winehouse
To Know Him Is To Love Him
John Hartford
Tall Buildings
Pee Wee King
Tennessee Waltz
The Dillards
Old Home Place
Genres: Pop, Country, Rock
Playing everything from Miranda Lambert, Tim McGraw and Jason Aldean, through to Katy Perry, Justin Timberlake and Grace Potter, Two Way Crossing's blistering live show is a must-see addition to any party or event. With gorgeous harmonies, mesmerizing performances, and a high energy rhythm section, Two Way Crossing are pushing country music boundaries without leaving behind everything they love about the genre.
Songlist includes:
Garth Brooks
Ain't Going Down Til The Sun Comes Up
Kenny Chesney
American Kids
Miranda Lambert
Baggage Claim
Lady Antebellum
Bartender
Little Big Town
Boondocks
Brooks & Dunn
Boot Scootin' Boogie
Old Dominion
Break Up With Him
Little Big Town
Day Drinking
Genres: 50s, Funk & Soul, Jazz, R'n'B
Originating from Nashville, Tennessee, jazz vocalist Arianna Hume and guitarist Ryan Casey are the Arianna Hume Duo. Performing stylistic covers of popular songs from the 1940's to current hits, their expansive repertoire includes everything from the classic works of Frank Sinatra, Billie Holiday, Ella Fitzgerald, Etta James, and George Gershwin, to modern artists Norah Jones, Van Morrison, Elvis Presley, and Stevie Wonder.
Songlist includes:
Ella Fitzgerald
Cry Me A River
Etta James
Sunday Kind of Love
Stevie Wonder
Isn't She Lovely
Nat King Cole
Unforgettable
Ella Firtzgerald
Autumn Leaves
Audrey Hepburn
Moon River
Billie Holiday
On The Sunny Side of the Street
Tony Bennett
Fly Me to the Moon
Genres: Classic Hits, Pop, Top 40, Country, Rock
The Peter Moon Band is one of Nashville's best and busiest party bands! Whether it's cranking up Rock'n'Roll anthems at Bridgestone Arena for the Nashville Predators, boot-scootin' the line dance crowd at the World Famous Wild Horse Saloon, or funkin' out a packed dance floor at weddings, clubs and private events, the PMB is equally at home.
Songlist includes:
Bruno Mars
24 Karat Magic
Earth Wind and Fire
September
Kool and the Gang
Celebration
Chris Stapleton
Tennessee Whiskey
Bon Jovi
Livin' on a Prayer
Marvin Gaye
Ain't No Mountain High Enough
Genres: Funk & Soul
Comprised of some of the most talented musicians in Nashville, The Music City Toppers always deliver a lively set of entertainment covering the funk and soul hits you know and love. The Music City Toppers are the official house band of LoBro's hottest venue and bar, Acme Feed & Seed.
Songlist includes:
Robert Glasper feat. Erykah Badu
Afro Blue
Marvin Gaye
Ain't No Muntain High Enough
Aretha Franklin
Baby I Love You
Sharon Jones & The Dapkings
Be Easy
Curtis Mayfield
Billy Jack
The Jacksons
Blame It On The Boogie
The Dynamites feat. Charles Walker
Can You Feel It
Kool and the Gang
Celebration
12 South Band
Genres: Pop, Soul, Funk, Dance, Rock
Formed out of a passion for entertaining and a desire be more than your typical band, 12South Band offers a unique alternative. Having shared the stage with the likes of Usher, Lady Gaga, and Rascal Flatts, this group combines music and dance into a show-stopping performance. In addition to an outstanding group of musicians, 12South Band brings a group of top dancers to perform entertaining dance numbers and even teach your group some moves of their own.
Boomerang
Genres: 60s Tribute Band
Anyone hoping to keep rock-n-roll on the dance floor should look no further. Boomerang makes classic 60s jams the cornerstone of their fun and upbeat entertainment. Frank Feinstein—rhythm guitar, lead vocals, and founding member, was the youngest writer exclusively signed to a publishing company in Nashville.
Bueller Band
Genres: 80s Pop & Rock
If you grew up hoping to find John Cusack holding a boom box outside your window or wishing Molly Ringwald was your BFF, this is the band for you. From synthesizer-led Flock of Seagulls and Van Halen to the classic metal of Poison and Def Leppard. Bueller Band, as the name would suggest, is a live tribute to the very best 80s music. These top notch entertainers will put on an incredibly fun show and will keep the dance floor packed all night.
Burning Las Vegas
Genres: Funk, Rock, Rhythm & Blues Soul Band
Brought together by a love and appreciation for artists from the 60s and 70s, Burning Las Vegas puts on a show that everyone from the young to the young at heart can enjoy. With a blazing hot horn section, a groovy rhythm section, and three powerful female vocalists, this band will shake you right out of your shoes. Known around Middle Tennessee for riveting and explosive performances, they incorporate a chemistry and passion into their shows that fills dance floors and makes it impossible to sit down.
City Lights
Genres: Big band, Motown and Dance
City Lights is comprised up of multi-talented musicians including Paula Chavis, member of the Nashville Symphony who worked with Arthur Murray and Kenny Rogers as well as Sam Levine, band leader, saxophone player and three-time Dove nominated recording artist. Whether you're looking for a small trio sound, an eight-piece band or a full bodied 12-piece dance orchestra, City Lights can make it happen. They've been performing in the Nashville area for over 15 years and understand that music makes the party.
Craig Duncan Music
Genres: Classical
Someone looking for a string quartet, trio, or even just solo experience should take note. Craig Duncan, member of the North American Fiddler's Hall of Fame and featured on over 90 record albums, has recorded with huge stars like Randy Travis, Billy Dean and Kathy Mattea. He and the band will cater to the sound you are looking for, whether you decide on smooth classic from the Craig Duncan orchestra (8-20 musicians), or Freeway, a smaller band with female vocals and a jazzy pop vibe—you're sure to find the perfect balance of tradition and modernity.
The Downtown Band
Genres: Pop, Rock, Dance, Funk, Soul
Fronted by accomplished vocalist, songwriter and composer Justin Caldwell, The Downtown Band brings show-stopping energy to every performance. Ranging from a four to 10-piece group (depending on your needs), this dynamic band can play everything from an elegant cocktail hour to a big after party. You can count on their high energy and extensive repertoire to fill the dance floor.
The Entice Band
Genres: Soul and Funk
The Entice Band has shared the stage with funk and soul bands like Cameo, The Ohio Players and Bobby Blue Band. Through choreography and funkadelic vibes they don't just play for an audience, they interact with the party and bring classic soul and funk songs to life in a way you've never heard before.
Guilty Pleasures
Genres: 70s, 80s and 90s
This band has made a name for themselves around Nashville playing spot on covers of all your favorites from the late 70s through the early 90s. Frequently joined by special guests from the bands they cover, Guilty Pleasures brings a zeal to every event they play for an incredible performance that will keep your guests talking long after the party stops.
Lipstick Blonde
Genres: 80s, 90s and 2000s
One of Nashville's favorite cover bands, Lipstick Blonde is made up of seasoned session musicians and touring pros. These accomplished entertainers have played everything from packed auditoriums to smaller, high-end events and always make delivering a great performance their top priority. They know how to get the party started.
Nashvegas All Stars
Genres: Pop, Rock, Country, Dance
Made up of five world-class musicians, these guys are truly all stars. The group is extremely versatile, will travel easily and provide a first-rate sound and light production at no extra cost. Whether you need a trio or a 10-piece show band, the All Stars are stellar performers who will create exceptional music for dining, dancing, listening, and just having a great time.
The Nashville Blue Tones
Genres: Top 40, Funk, Soul, Classics
One of Nashville's most popular ensembles, The Nashville Blue Tones, make any event an exciting and upbeat celebration. With award-winning male and female vocalists and a world-renowned horn section, this 6-10 piece dance band plays favorites from every era. They are extremely versatile and will play everything from Frank Sinatra to current chart toppers, creating a soundtrack that will carry your evening from classy reception to full-blown dance party.
The Respectables
Genres: 60s, 70s, 80s, 90s, 2000s + DJ
The recipients of multiple local awards, The Respectables have been packing dance floors in Nashville for over a decade. This band/DJ combo switches seamlessly between a live band that plays the best dance music from the last five decades and a DJ who plays modern dance favorites, making sure the dance floor is never empty. The best of both worlds in one affordable package.
The Scat Springs Band
Genres: R&B with a little Swing
The Scat Springs Band doesn't just play music, they entertain. The bands founder and frontman, Scat Springs, is a nationally recognized singer-songwriter, comedian and entertainer. He's worked with huge names in the industry such as Faith Hill, Michael McDonald, Brian McKight, SheDaisy, Michael W. Smith and many more. Their song list ranges from James Brown and R. Kelly to Louis Armstrong and Billy Preston.
The WannaBeatles
Genres: Beatles Tribute
The WannaBeatles have definitely made some buzz of their own. Nominated for a Grammy in 2011, they take pride in entertaining and playing the tunes everyone still knows and loves. Even though you can't have the Beatles at your wedding, their high energy style might be the next best thing.
Top Tier
Genres: Smooth Jazz and Party Classics
Top Tier is made up of a experienced and accomplished musicians who have shared the stage with some of music's biggest stars. You might even recognize their lead singer from season 10 of American Idol. This versatile band consistently wins awards for their ability to provide a top notch performance from light jazz for dinner and cocktails or high-energy dance music when the party really gets going.
Emerald Empire Band
Genres: Jazz, Pop, Funk, Motown, 80s
The Emerald Empire are a premium, customizable 3-14 piece band specializing in high-energy music for festivals, weddings, corporate events and private functions–at a sensible price. Our talented and professional musicians have performed regularly with touring and recording artists including Stevie Wonder, Aretha Franklin, Jay Z, Janelle Monae, Prince, Martina McBride, and Bruno Mars, as well as working and touring with numerous Broadway shows.
The Music City Sound
Genres: Motown, RNB, Jazz, Country, Top 40
The Music City Sound provides the highest quality entertainment while guaranteeing memories that will last a lifetime. The band, lead by artist C.T. Blackmore, and professional touring musician Will Elliott is one of the hottest groups out of Nashville. With Will and C.T.'s combined 14 years of experience on the road (touring and performing with acts from Miranda Lambert to Aretha Franklin), they are truly masters of their craft and are dedicated to bringing world-class entertainment to each and every event they play.
James Carothers
Genres: Country Music
Nashville honky-tonk crooner, James Carothers, is known best for his stone-country originals and spot-on impressions of several of country music's greatest icons. He's played over 1500 public, corporate, and private events since January 2015.
Bobby Cool & The Nashville Players
Genres: original music is infused with country, americana, and roots
Bobby Cool and The Nashville Players help make any event feel like a party. With a nice mix of down home comfort and first class professionalism, these guys will get your group fist pumping, dancing, and singing along.
Universal Crush
Genres: Dance and Party Music
Universal Crush is a 12-piece band located out of Nolensville, Tennessee. This talented team of artists features an impressive resume and is ready to help you create a truly unforgettable night. Contact them today to see if your date is available.
Aberdeen Green
Genres: Country
Aberdeen Green is a country wedding band based out of Nashville, Tennessee. Amanda Mackintosh and Carley Chilton incorporate their high-energy, acoustic sound with bluegrass harmonies, and draw inspiration from folk, country, and jazz influences. They have shared the stage with many well-known names in the music industry, and have also played at The Ryman Auditorium and the Tree Lighting Ceremony at the White House.
The Remedies
Genres: amazing range of current and classic hits
The Remedies is Nashville's coolest party band focused on energizing every event with impeccably-crafted renditions and super-tight arrangements of current hits and popular classics! Three equally-talented, yet stylistically-unique lead vocalists allow the group to nail an amazing range of current and classic hits. In addition, the Remedies' girls work the crowd to ensure your reception is full of fist-pumping fun! The band's rhythm section makes the dance floor shake with deep grooves and the help of a heart-thumping professional sound system!
Chubby & The Dots
Genres: Motown, classic rock, funk, swing, pop, top 40, R&B
Chubby & the Dots is a band performing weddings and events throughout Nashville, Tennessee. The seven-member Motown cover band has been electrifying audiences for over ten years, with classics from Otis Redding, Elvis, Sam Cooke, and many more Motown and blues artists. The band incorporates vocals, horns, guitar, piano and percussion. Chubby & the Dots seeks to set the mood for your wedding celebration and keep your guests dancing all night. The band is not limited to Motown and blues, but covers music from all decades. They also play classic rock, funk, swing, pop, top 40, R&B and more.
The NashVegas All Stars
Genres: classic rock, top 40 and R&B/Soul
The NashVegas All Stars is a wedding band based in Nashville, Tennessee, that performs in Cincinnati, Ohio, Dallas, Texas, Atlanta, Georgia, and beyond. In 2005, five world-class musicians came together to form The NashVegas All Stars. Now, over a decade later, the super-group will surely pack the dance floor on your special day. The NashVegas All Stars specialize in performing a wide-variety of the latest and greatest hits of yesterday and today, in genres including classic rock, top 40 and R&B/Soul.
For a Good Time, Call...
Genres: Formal to casual, oldies to jazz, top 40 pop to country
They specialize in corporate and wedding entertainment from cocktail hour to the after-party, offering customizable packages for every style and budget. 4AGTC has been invited to represent some of Tennessee's most popular venues and event planners as a "Preferred Vendor." They are known nation-wide for taking care of business, while developing a friendly and relatable rapport with our clients.
Pink Cadillac
Genres: Party Dance
Pink Cadillac in one of Nashville's hottest wedding corperate party dance bands, with a smokin horn and rythem section,and top it off with three powerhouse chorigraphed female vocalist and male counterpart,they will shake you out of your shoes!!!
Push The Limit
Genres: Top 40, Rock, R&B, Motown, 80's, Disco, and Classic Rock
As their name suggests, this band pushes all limits to take every event to its highest potential with their high-energy and non-stop show with choreographed moves - guaranteed to keep your party going!